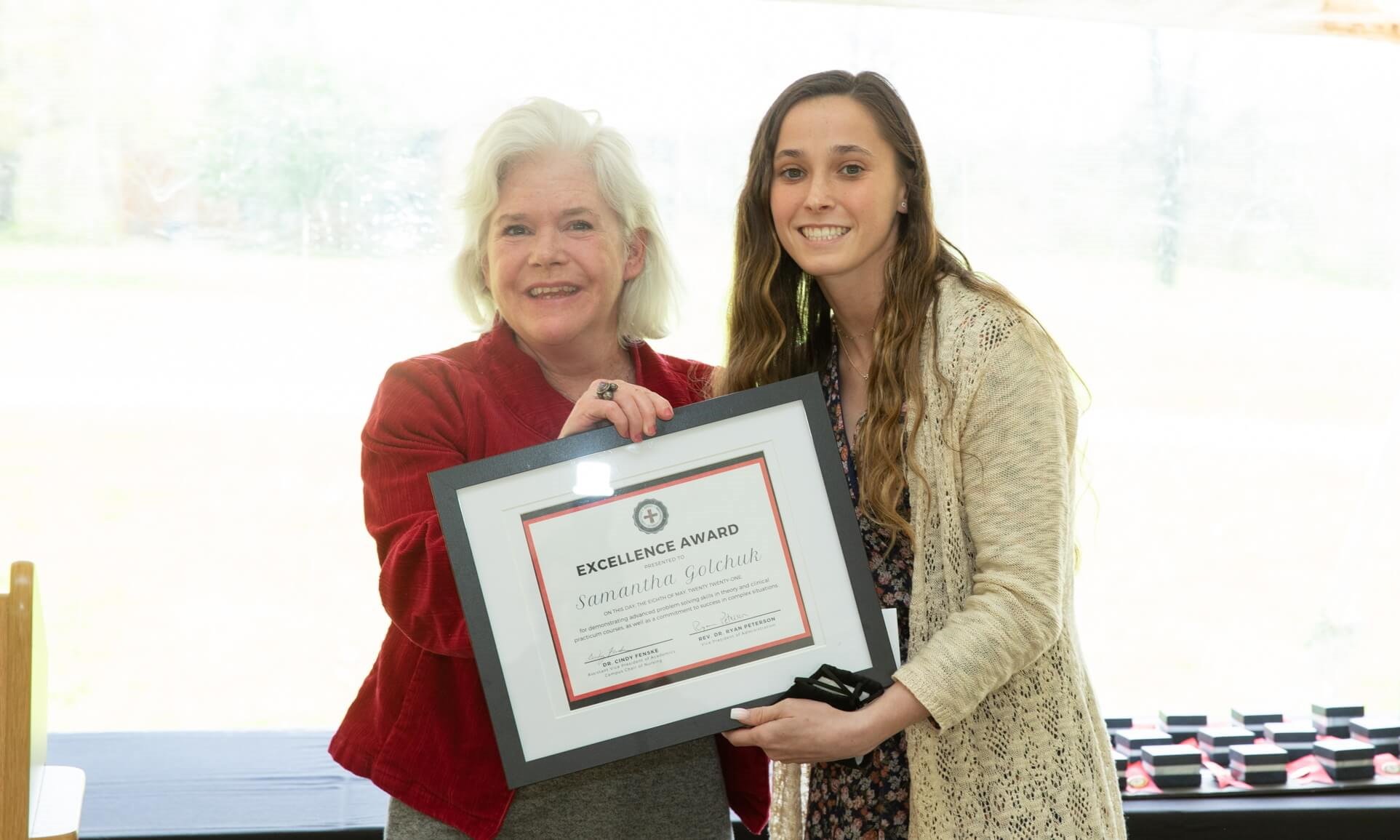 On Saturday, May 8, Concordia University Ann Arbor Ronald and Marvel Jones School of Nursing celebrated the Pinning Ceremony for the Gamma Class, the sixth cohort to graduate from CUAA's bachelor of science in nursing program.
---
The Gamma Class pinning ceremony was celebrated in the Earhart Manor Tent on the campus of Concordia University Ann Arbor. Nursing graduates sat in pods with their families around the outdoor tables.
In addition to the pinning ceremony, the Gamma class will celebrate the completion of their degree with an in-person commencement ceremony on Sunday, May 9 at either 1 p.m. ET or 4 p.m. ET.
Each semester, Concordia's nursing faculty and staff nominate students from the graduating cohort who best represent the core values of the nursing program: service, excellence, compassion, and integrity. An additional award, the Nightingale Award, was created as a tribute to Florence Nightingale who embodied nursing as her life's vocation. The recipient of this award exemplifies that same character and calling.
View all of the Gamma class award recipients.
Excellence Award: Samantha Golchuk ('21)
Presented by Peggy McLaughlin
The award I am giving today is for a student who exemplifies excellence.  Excellence is defined as being outstanding or extremely good.  In the Bible is the reminder, "Whatever is true, whatever is noble, whatever is right, whatever is pure, whatever is lovely, whatever is admirable—if anything is excellent or praiseworthy—think about such things." (Philippians 4:8, NIV).
From the Biblical standpoint, excellence is a mindset.  For Concordia Nursing, excellence—combining grit, wisdom, and kindness—persists in the very best nurses.  And so, we expect Concordia nurses to display these aspects of excellence.  One student, though, has scored a hat trick as she's gone about her Concordia experience with relentless grit, and wisdom and kindness.  It's been said about this student that "She has SUCH a good attitude" and "There's no doubt that she's going to knock it out of the ballpark"—whether it's navigating a piggyback IV checkoff, ace-ing an exam, or crafting a research paper.   Our Excellence award goes to someone who is a leader without being a grandstander.  She can be counted on to follow through, and always with a smile.
Throughout that first semester of nursing school, she showed enthusiasm in what can be a time of many trials.  She's the one who would actually thank me for making nit-picky comments on her concept maps, or pointing out violations of the APA style code.  Even with the disappointment of not being able to have a clinical experience in Kenya, this student's alacrity and good-natured demeanor never let up.
Our Excellence award winner is, in medical terms, a ray of sunshine, and I'm convinced that this student strives to be herself at her very best, all the time.  She is a Concordia Nurse:  Samantha Golchuk.
Previous Excellence Awardees:
Katie Farley (Zeta class, Fall 2020)
Tammy Delane (Omega class, Spring 2020)
Ilona Rozina (Delta class, Fall 2019)
Courtney Deyarmond (Beta class, Spring 2019)
Desiree Reyes (Alpha class, Fall 2018)
---
Learn more about Concordia University Ann Arbor's Ronald and Marvel Jones School of Nursing.
— Rachel Thoms served on Concordia University's Strategic Communications team from 2015-2022. Any inquiries about this story can be sent to news@cuaa.edu.
If this story has inspired you, why not explore how you can help further Concordia's mission through giving.