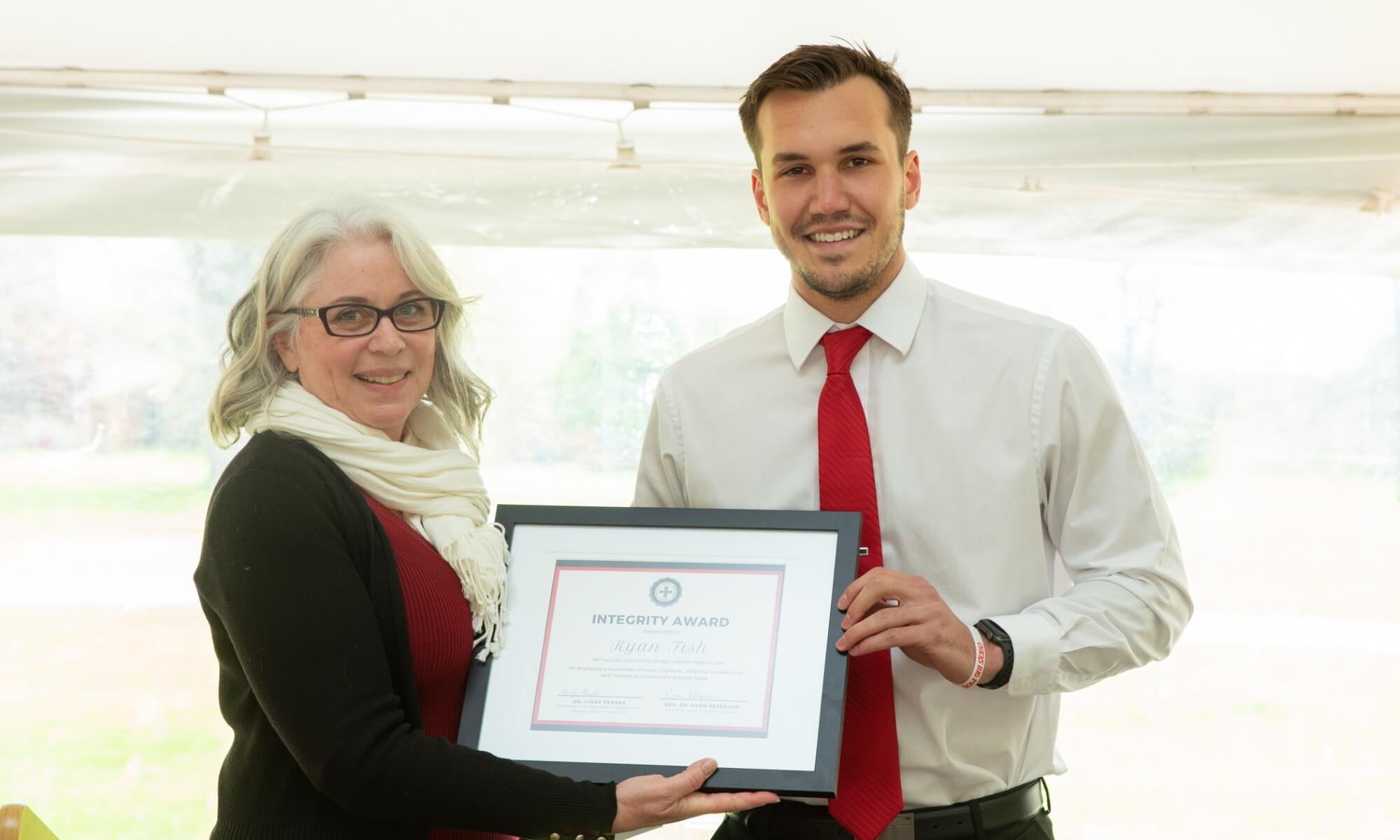 On Saturday, May 8, Concordia University Ann Arbor Ronald and Marvel Jones School of Nursing celebrated the Pinning Ceremony for the Gamma Class, the sixth cohort to graduate from CUAA's bachelor of science in nursing program.
---
The Gamma Class pinning ceremony was celebrated in the Earhart Manor Tent on the campus of Concordia University Ann Arbor. Nursing graduates sat in pods with their families around the outdoor tables.
In addition to the pinning ceremony, the Gamma class will celebrate the completion of their degree with an in-person commencement ceremony on Sunday, May 9 at either 1 p.m. ET or 4 p.m. ET.
Each semester, Concordia's nursing faculty and staff nominate students from the graduating cohort who best represent the core values of the nursing program: service, excellence, compassion, and integrity. An additional award, the Nightingale Award, was created as a tribute to Florence Nightingale who embodied nursing as her life's vocation. The recipient of this award exemplifies that same character and calling.
View all of the Gamma class award recipients.
Integrity Award: Ryan Fish ('21)
Presented by Kathleen Sheehan
There are two parts to integrity:
Part one, is internal, it's about being true to yourself and would do nothing that demeans or dishonors you.
Part two, is external, what others see you do.
True integrity integrates both.  The only way you know if someone possesses this is to watch them over time.  We have had almost three years to observe this student.
Nurses who practice with moral integrity possess a strong sense of self and act in ways consistent with what they understand is the right thing to do.  It doesn't mean they don't have an internal struggle with what to do, but integrity prevails.
Having true integrity makes you trustworthy, and garners respect.
When we apply this concept of integrity to nursing, it takes on a whole new meaning, because now it's not just about you.  It will impact your patients, coworkers and the institutions you work for.  Nurses care for people who are often at their most vulnerable. When they are unable to advocate for themselves, nurses with integrity will do the right things on their behalf.  Very soon you will be standing alone in a room with a person and you will pull that curtain to provide care and no one will be there to govern your actions but you.
The nurse that walks in integrity walks securely (Prov 10:9a). The nurse with integrity never has to cover their tracks.
The student that is getting this award displayed integrity consistently, quietly and never asked questions like, "what do I need to do to pass the test"?  They studied to understand what they needed to know to be a professional.  The worked nursing school like it was their job. They did it without drawing attention to themselves.  Calm, quiet, and confident.
When discussing this student with staff and faculty some of the comments where:
They were honest, trustworthy and competent, one clinical instructor, commented that she, "never had to make sure they were following up on patient care". It was already being done.
Honest, not afraid to speak up when they didn't understand something. Took their role as a student nurse seriously.
They were referred to as being respectful and teachable.
Because of this I knew we that he could be trusted to care for our most vulnerable populations in Detroit.
When this student steps into professional practice, I have no doubt that he will take all of these attributes and have a positive impact on the profession of nursing.
The award for Integrity goes to Ryan Fish.
Previous Integrity Awardees:
Brooke Opland (Zeta class, Fall 2020)
Lillian Thompson (Omega class, Spring 2020)
Susan Sielicki (Delta class, Fall 2019)
Paula Bobosky (Beta class, Spring 2019)
Turome "Tea" Chandler (Alpha class, Fall 2018)
---
Learn more about Concordia University Ann Arbor's Ronald and Marvel Jones School of Nursing.
— Rachel Thoms served on Concordia University's Strategic Communications team from 2015-2022. Any inquiries about this story can be sent to news@cuaa.edu.
If this story has inspired you, why not explore how you can help further Concordia's mission through giving.