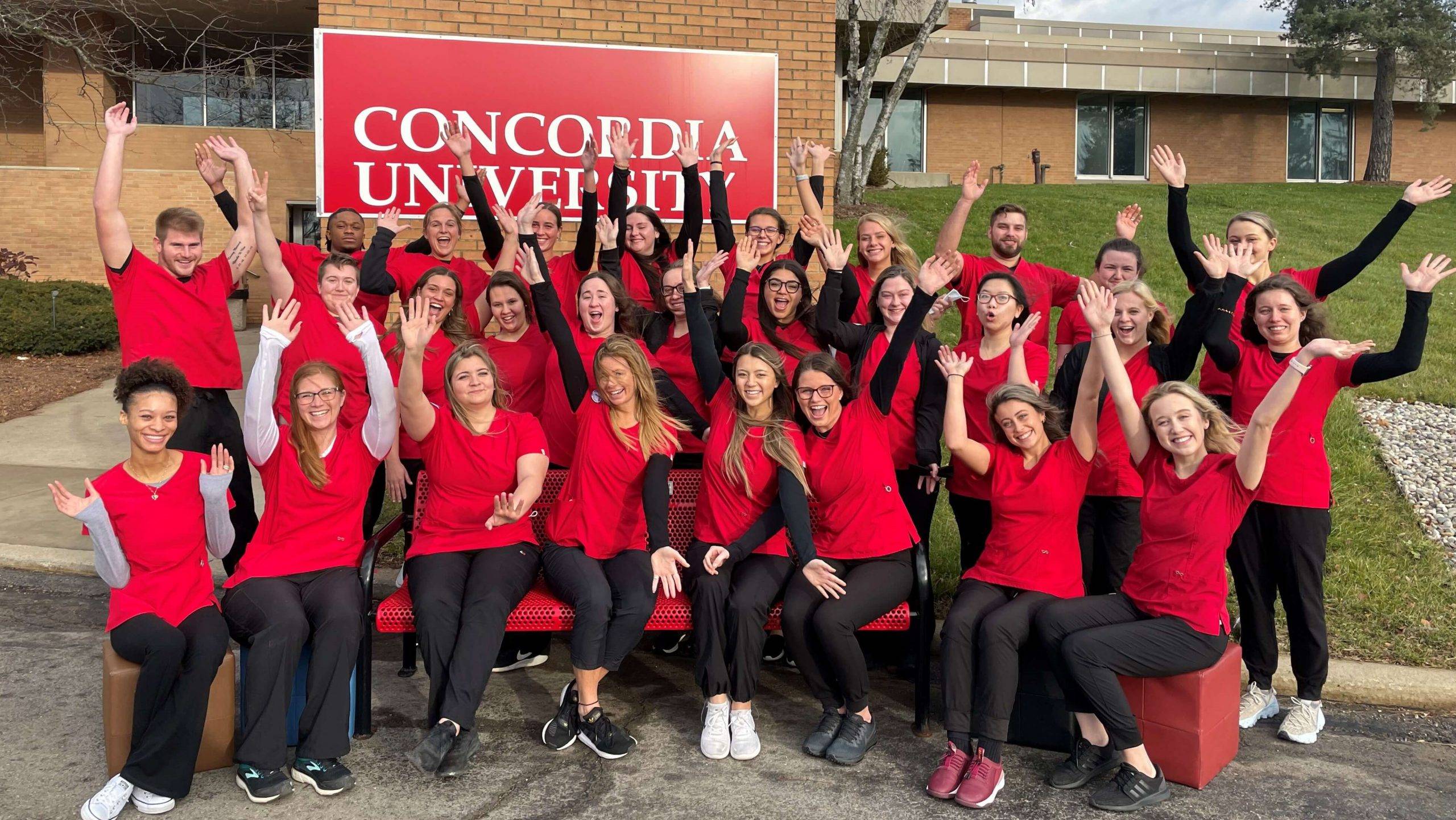 On Saturday, December 18, Concordia University Ann Arbor Ronald and Marvel Jones School of Nursing celebrated the Pinning Ceremony for the Epsilon Class, the seventh cohort to graduate from CUAA's bachelor of science in nursing program.
---
The Epsilon Class pinning ceremony was celebrated in The Chapel of the Holy Trinity at Concordia University Ann Arbor.
In addition to the pinning ceremony, the Epsilon class will celebrate the completion of their degree with an in-person commencement ceremony on Sunday, December 19 at at 2 p.m.
Each semester, Concordia's nursing faculty and staff nominate students from the graduating cohort who best represent the core values of the nursing program: service, excellence, compassion, and integrity. An additional award, the Nightingale Award, was created as a tribute to Florence Nightingale who embodied nursing as her life's vocation. The recipient of this award exemplifies that same character and calling.
View all of the Epsilon class award recipients.
The Nightingale Award: Allison Garstecki ('21)
Presented by Cindy Fenske
For the sick it is important to have the best. -Florence Nightingale
Florence Nightingale is an iconic figure who is responsible for the philosophy and underpinnings of modern day nursing. Prior to her, nursing was looked down upon as unimportant and as a low status job. Through her efforts, nursing was reborn into the trusted profession we know today. The name of Florence Nightingale is often associated with integrity, nursing excellence, compassion, service, our CUAA cornerstone value. Florence Nightingale viewed nursing as her calling from God. She gave her life and passion to the care of others, no matter what the conditions. It is in her name, that we give this award to a graduate, who displays these same qualities.
The award this year goes to a high achieving graduate who embodies all of the CUAA cornerstone values. These values were on display on a daily basis as they demonstrated maturity and impeccable integrity, seen by their honesty, reliability, and strong work ethic. Their work was characterized by excellence.  This person was always engaged and prepared for class, along with always bringing a positive outlook to every situation.
This student has a heart for the vulnerable and we have seen them acting as a strong advocate on their behalf. This compassionate behavior was visible for all to see during the numerous service activities this summer during the trip to Anchorage, Alaska. This student is seen as a respected leader within the School of Nursing. During her work as a simulation actor, she was often seen giving helpful advice and kind suggestions to those in this class, sharing her lessons learned. She was always conscientiously tactful with her words, showing grace and care to others.
The nursing team felt strongly that this person clearly represented the ideals that Florence Nightingale held so dear.  I proudly give this award to Allison Garstecki. This graduate embodies what it is to be a Concordia nurse.
Previous Nightingale Awardees:
Sophia Bell (Gamma class, Spring 2021)
Alexandra Ferreira (Zeta class, Fall 2020)
Lauren Baranski (Omega class, Spring 2020)
Hattie Thomas (Delta class, Fall 2019)
Caitlyn Freshour (Beta class, Spring 2019)
Samantha Southwell (Alpha class, Fall 2018)
---
Learn more about Concordia University Ann Arbor's Ronald and Marvel Jones School of Nursing.
—
If this story has inspired you, why not explore how you can help further Concordia's mission through giving.