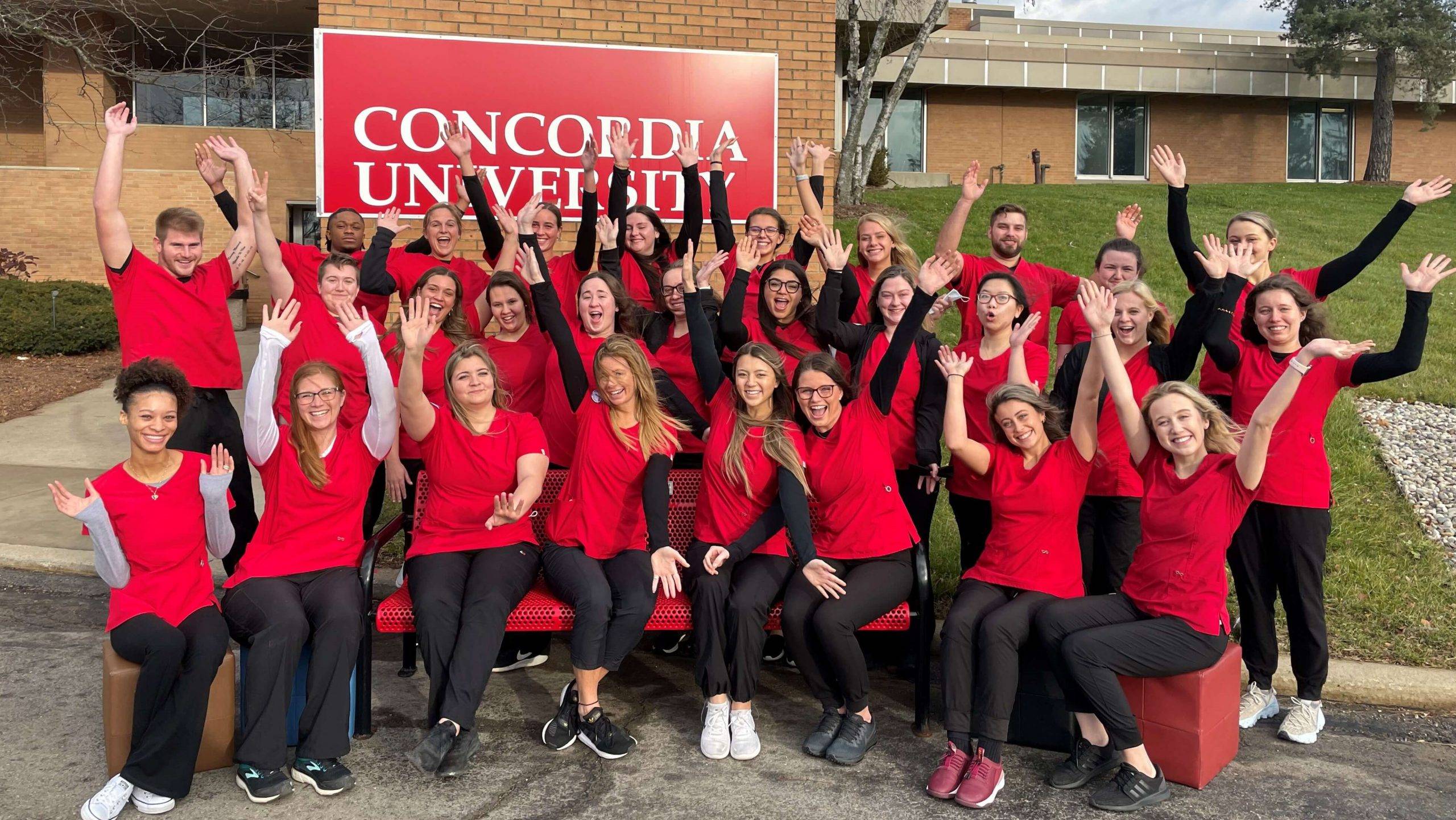 On Saturday, December 18, Concordia University Ann Arbor Ronald and Marvel Jones School of Nursing celebrated the Pinning Ceremony for the Epsilon Class, the seventh cohort to graduate from CUAA's bachelor of science in nursing program.
---
The Epsilon Class pinning ceremony was celebrated in The Chapel of the Holy Trinity at Concordia University Ann Arbor.
In addition to the pinning ceremony, the Epsilon class will celebrate the completion of their degree with an in-person commencement ceremony on Sunday, December 19 at at 2 p.m.
Each semester, Concordia's nursing faculty and staff nominate students from the graduating cohort who best represent the core values of the nursing program: service, excellence, compassion, and integrity. An additional award, the Nightingale Award, was created as a tribute to Florence Nightingale who embodied nursing as her life's vocation. The recipient of this award exemplifies that same character and calling.
View all of the Epsilon class award recipients.
Excellence Award: Grace Krawczyk ('21)
The award I am giving today is for a student who exemplifies Excellence.
Excellence is one of our program's cornerstone virtues.  It is defined as the demonstration of actions and character that show merit or greatness that are above the expected level. The excellence award is for a nursing student who demonstrates advanced problem-solving skills in theory and clinical practicum courses, as well as a commitment to success in complex situations.
An excellent student does not cut corners. An excellent student gives more, even when the task at hand could be called "good enough." An excellent student enters a situation being as prepared as possible for the "what ifs."
It has been said of this graduate that she ALWAYS maintains a positive outlook.  She keeps a quiet calmness about her in all situations. She is eager to learn and then applies her knowledge through critical thinking in her actions. She provides EXCELLENT care to her patients- both live ones and simulated ones, letting her kind-hearted nature shine through. She truly demonstrates a genuine heart for others' well-being.
When each of us gets the opportunity to present these awards, we gather input from all instructors. I had the joy of reading the response from this graduate's clinical instructor and I need to quote her responses as follows:
"I am beyond excited to share about such a great student! I have been afforded the ability to watch 'this student' grow from the beginning of her nursing journey until the end and I cannot express enough how much of a blessing that was. 'This student' has an incredible way of exuberating compassion and kindness as soon as she enters the room. Her professional presence provides her patients with a sense of calm and safety that I have rarely witnessed from another caregiver, especially not a student. 'This student' is the epitome of an excellent student, and she is more than deserving of this award. I believe that she will continue to display excellence in the field, and I am thankful that she has chosen Nursing as her career choice."
I personally have had the privilege to work alongside this graduate as the SNA advisor as she held an elected officer position for a year, as well as voluntarily staying on the following year, acting as the sole officer for an additional 9 months until clubs and organizations got going again due to Covid. She never complained, never would think of saying, "that's not my job anymore," but instead, did whatever she could to keep functions going.
It has also been my pleasure to have this graduate working in the simulation lab as a student worker for the last couple years. She is so dependable, conscientious in all she does. Even when a set up is complete, she will come to me to see if there is more she can do. An excellent worker!
I could say more, but for these reasons and beyond, it is my honor to present the Excellence award to Grace Krawczyk.
Previous Excellence Awardees:
Samantha Golchuk (Gamma class, Spring 2021)
Katie Farley (Zeta class, Fall 2020)
Tammy Delane (Omega class, Spring 2020)
Ilona Rozina (Delta class, Fall 2019)
Courtney Deyarmond (Beta class, Spring 2019)
Desiree Reyes (Alpha class, Fall 2018)
---
Learn more about Concordia University Ann Arbor's Ronald and Marvel Jones School of Nursing.
—
If this story has inspired you, why not explore how you can help further Concordia's mission through giving.