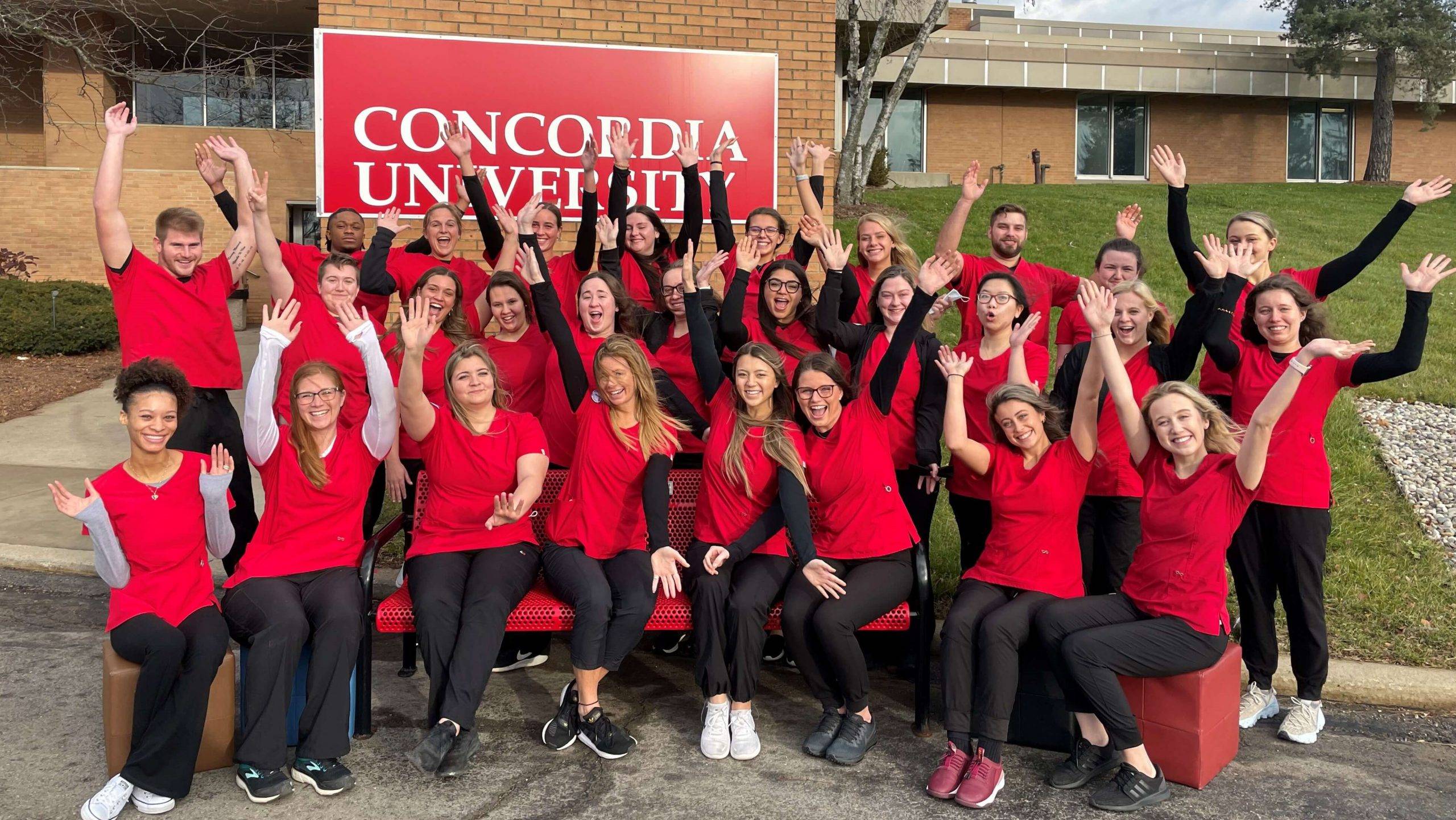 On Saturday, December 18, Concordia University Ann Arbor Ronald and Marvel Jones School of Nursing celebrated the Pinning Ceremony for the Epsilon Class, the seventh cohort to graduate from CUAA's bachelor of science in nursing program.
---
The Epsilon Class pinning ceremony was celebrated in The Chapel of the Holy Trinity at Concordia University Ann Arbor.
In addition to the pinning ceremony, the Epsilon class will celebrate the completion of their degree with an in-person commencement ceremony on Sunday, December 19 at at 2 p.m.
Each semester, Concordia's nursing faculty and staff nominate students from the graduating cohort who best represent the core values of the nursing program: service, excellence, compassion, and integrity. An additional award, the Nightingale Award, was created as a tribute to Florence Nightingale who embodied nursing as her life's vocation. The recipient of this award exemplifies that same character and calling.
View all of the Epsilon class award recipients.
Service Award: Tyler Prihoda ('21)
The award I am giving today is for a student who exemplifies Service.
Service is one of our program's cornerstone virtues.  It is defined simply as that act of doing something for someone else without the expectation of being rewarded. The Word of God teaches us in the book of Philippians chapter 2 verse 4 "not to look at our own interests, but each of us to look to the interests of others." We all know that this is easier said than done.
Given the rigor of the nursing program, the demands of workplace and family life, and any other challenges that life brings, it takes a person with unique abilities to be truly service-oriented for the good of others. However, the nursing profession is founded on the desire to serve others.
The nursing graduate who will be receiving the excellence award today consistently and exceedingly exemplifies what it means to serve others. This graduating student easily connects with patients, colleagues and staff; is highly attentive to the needs of patients and customizes care on an ongoing basis.
He has volunteered many hours helping out in the community. Nursing students' accumulation of service hours in the community is rewarded by the Concordia School of Nursing at separate levels. The student we are recognizing today has achieved the platinum level nurse excellence points award for 2 semesters. Furthermore, this student is also caring and service oriented towards animals. He has served as a foster parent for kittens and on multiple occasions while participating in online classes on Zoom, we were delighted to see the kittens he was taking care of.
Today, it is my absolute pleasure to recognize a gentleman, who truly has a heart for service to others, Tyler Prihoda, for the Service Award.
Previous Service Awardees:
Jakara Ventour (Gamma class, Spring 2021)
Amy Kindred (Zeta class, Fall 2020)
Kalli Hunley (Omega class, Spring 2020)
Stanley Stinson (Delta class, Fall 2019)
Tim Felska (Beta class, Spring 2019)
Shalena Blocker (Alpha class, Fall 2018)
---
Learn more about Concordia University Ann Arbor's Ronald and Marvel Jones School of Nursing.
—
If this story has inspired you, why not explore how you can help further Concordia's mission through giving.