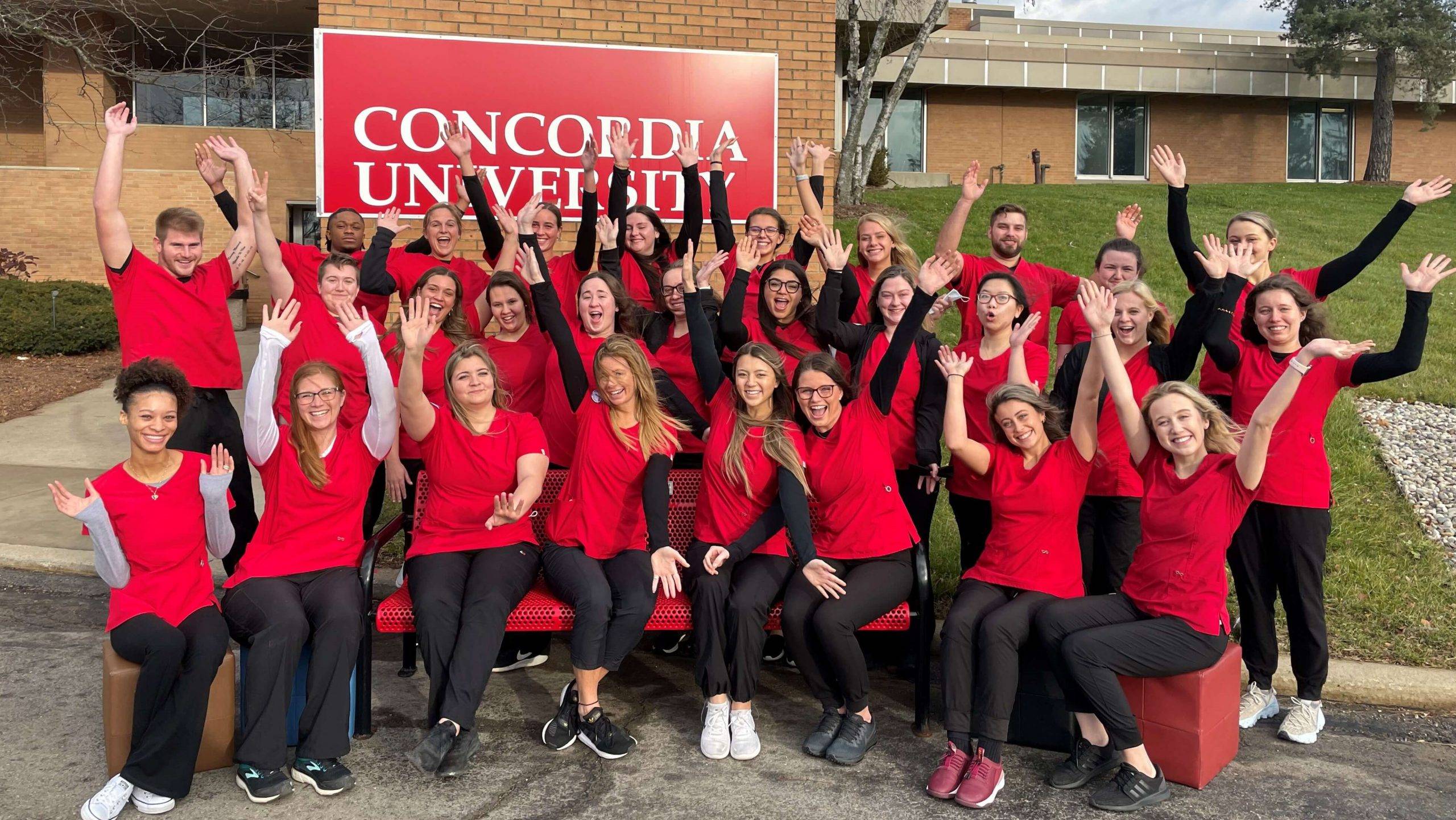 On Saturday, December 18, Concordia University Ann Arbor Ronald and Marvel Jones School of Nursing celebrated the Pinning Ceremony for the Epsilon Class, the seventh cohort to graduate from CUAA's bachelor of science in nursing program.
---
The Epsilon Class pinning ceremony was celebrated in The Chapel of the Holy Trinity at Concordia University Ann Arbor.
In addition to the pinning ceremony, the Epsilon class will celebrate the completion of their degree with an in-person commencement ceremony on Sunday, December 19 at at 2 p.m.
Each semester, Concordia's nursing faculty and staff nominate students from the graduating cohort who best represent the core values of the nursing program: service, excellence, compassion, and integrity. An additional award, the Nightingale Award, was created as a tribute to Florence Nightingale who embodied nursing as her life's vocation. The recipient of this award exemplifies that same character and calling.
View all of the Epsilon class award recipients.
Integrity Award: Emma Lariviere ('21)
In preparing this speech, I searched through endless dictionary websites for the definition of integrity.  It turns out there are lots of definitions. They all use lots of nice words, but they all use LOTS of words. The person who is getting this award, while certainly nice in all ways, generally uses very few words. So, in keeping with my ongoing efforts to stay young, cool and trendy, I found my favorite definition of integrity on Urbandictionary.com. I readily acknowledge this would not be a credible source for my students to cite in a paper. However, in this instance, their definition of integrity captures this individual perfectly.  And I quote … "Integrity: Doing the right thing even when nobody's looking."
When "nobody's looking", this student is at her best, and gets things done. She studies, works, tutors other students, and supports her family … she puts her head down and pushes through. She is honest, perhaps to a fault. On a rare occasion when she achieved a less-than-stellar result on one of my exams this past summer, instead of making excuses, she simply said, "My bad, I forgot about the exam and worked a night shift right before." As mentioned above, she has spent countless hours tutoring other students and has without question increased the overall excellence and success of our program.
Another key element of integrity is reliability … the act of showing up and doing what needs to be done. This is especially notable when "showing up" is literally the last thing in the world you want to do and when you have a million valid and heart-wrenching reasons that no one would question. This translates into someone who is consistently and unfailingly dependable. To put it simply this young lady shows up. She shows up and does what needs to be done even on those days when most of us would have given in to the moment and stayed home.
Given these unprecedented times in healthcare, the current nursing world is a tumultuous, challenging, and potentially frightening place to be. We are at the tip of the spear, and I can promise you these students will soon find themselves in great demand, with the world counting on them to "show up" and do difficult work in settings where "nobody's looking."  I have full confidence that this young lady will do what needs to be done. She will do the right thing, the right way, regardless of how difficult or uncomfortable.
The kids today would say this is an individual who has "got your back," my father, a 30-year navy veteran, would say she is someone you "want to share a foxhole with." Regardless, all parties would applaud that the integrity award this year goes to Emma Lariviere.
Previous Integrity Awardees:
Ryan Fish (Gamma class, Spring 2021)
Brooke Opland (Zeta class, Fall 2020)
Lillian Thompson (Omega class, Spring 2020)
Susan Sielicki (Delta class, Fall 2019)
Paula Bobosky (Beta class, Spring 2019)
Turome "Tea" Chandler (Alpha class, Fall 2018)
---
Learn more about Concordia University Ann Arbor's Ronald and Marvel Jones School of Nursing.
—
If this story has inspired you, why not explore how you can help further Concordia's mission through giving.